Additional costs include copywriting, food item optimization, custom icons, photography, and an oversize up-charge for menus larger than 8.5″ x 14″.
The Importance of Menu Design to Restaurants
Menus are like your restaurant's brochure or catalog. They serve as the most important marketing and sales tool in your arsenal, because they display all of your products with pictures, make them irresistible with descriptions, and pair items to increase your average ticket.
Your profits and the success of your business are directly related to your menu design and its layout.
Tag Marketing agency
takes your target audience, brand, and atmosphere into consideration when designing your bar, lounge, club, or restaurant menu. We have the creative design and growth-driven marketing background to put you above the competition.
View Our Menu Design Portfolio
The Role Design & Layout Plays In Your Menus
Menus Aren't Just A List Of Dishes Available
A great menu design can enhance your customer's dining experience and make your food and drinks irresistible. Menus are tools capable of communicating a bar or restaurant's identity and atmosphere. They can reflect your ethnic pride and establish a specific mood or vibe. They provide a lasting impression of an entire sensory experience.
If a menu is cluttered, poorly organized, or otherwise difficult to navigate, it can severely dampen your customers' satisfaction with your service. It does this by increasing the time it takes them to order and forces them just to pick an item they probably won't like.
On the other hand, a bold, well laid-out, and cleanly designed menu will increase your customers' level of satisfaction and make them more likely to return. It does this by describing exactly what they will get to avoid allergies or disliked ingredients, highlights customer favorites and your most profitable items, and also pairs items that go great together.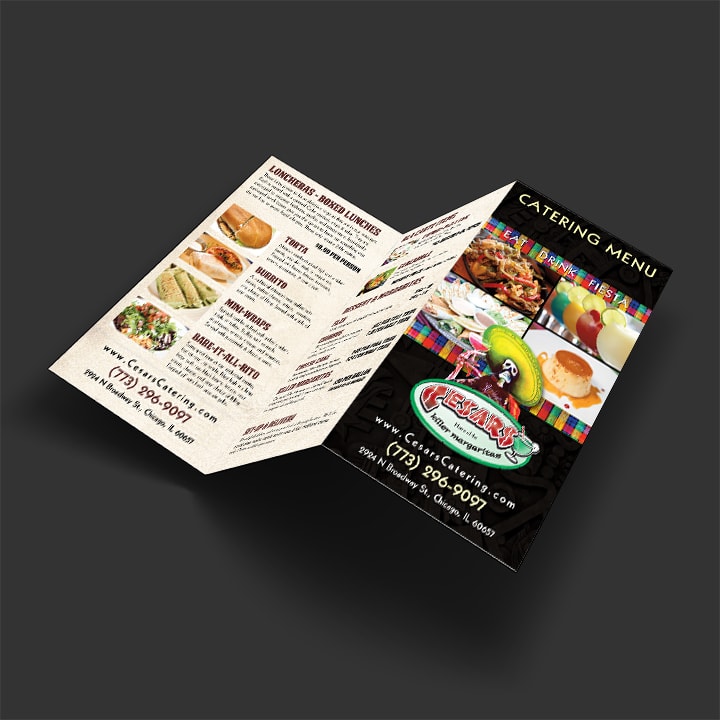 Simply the BEST! Hands down. We've been in business for almost 3 decades and its really hard to find good / HONEST designers. The entire team will literally drop anything to make things happen for us. Anything from a complex ad campaign to an update to the website they are always there to make things happen for us. On top of that they work with our budget. The restaurant industry is seasonal and they accommodate to the changes through out the year. I feel very lucky to have them in my corner! HIGHLY RECOMMEND THEM!
Menu Design That Makes The Difference
The Best ROI
Whether your establishment is a nationwide restaurant chain, or a mom and pop catering business, we have the talent and insight to get you the best return on your investment.
Brand Cohesion
We "cater" each menu design to your bar or restaurant's goals and challenges. The size, style, and format of the menu are all driven by your menu's content, the style of your restaurant, and the frequency of menu updates.
Menu Layout
Your menu makes a great impression if it's items are categorized well. We'll help you list your menu items in a way that showcases value without sacrificing variety or clutterness for maximum profitability.
From Print to Digital
Once we've completed the design of your printed menu, we can use that design to create digital menus for your business. These are great to put on your website or social media profiles for customers to view online or download a PDF version. This increases your brand's exposure, allowing you to reach more customers.
At Tag Marketing, we have the experience to build creatively designed, functional, growth-driven menus for any industry. We've successfully designed every type of menu imaginable including In-House Menus, To-Go Menus, Kids Menus, Menu Boards, Beer Menus, Late Nite Menus, Specialty Menus, Single Pagers, Half Folds, Tri-Folds, Digital Online Menus… you name it!
Creative, Expertly Designed Menus
We'll "serve" you with a menu design that fits your vision and reaches your goals, and does it within your budget.